November 26, 2015

Comment: 0
Copied from the Financial Times
Patriotism and passion bring experienced Nigerian medics home
Andrew Jack
Chumy Nwogu left Nigeria after his medical studies to pursue a career in the US, where he is now a professor of oncology. But his commitment to and activities in his homeland have only grown over time — despite the considerable challenges facing the country's healthcare sector.
"It was clear I had to do more in Nigeria. I had a sense of patriotism and it was a passion of mine," Prof Nwogu says, reflecting on his experience in establishing the Lakeshore Cancer Centre in Lagos, where he spends about a third of his time while maintaining his practice in the US.
Like many of his peers who were trained outside Nigeria, he has neither entirely left nor completely reintegrated, as he seeks to draw on his experience and contacts abroad to improve conditions in his country of birth. That includes tapping many of his US colleagues for periodic placements, remote consultations and direct referrals.
"People are coming back to work in health, but I would say it's still the exception. There are fewer [people of the diaspora] than in other sectors, where I know people who have been headhunted in technology, engineering and banking," says Chikwe Ihekweazu, who himself returned to Abuja to help found both a consultancy and Nigeria Health Watch, an advocacy group. "The health sector is the next big frontier."
He says that the hesitant return by the medical diaspora partly reflects the career structure, with doctors typically completing lengthy training and professional placements before thinking about the possibility of coming back to Nigeria in their early 40s.
It is also a function of the difficulties of operating in the country, where health provision remains highly fragmented and underfunded. Training and quality are often poor and financial support to cover patients' costs can be limited.
Oge Ilegbune, for example, moved back to Lagos after a 15-year-career as a GP in south London. She works in the Lakeshore Centre, not as an oncologist but to provide support to patients who struggle elsewhere to find good care for other medical conditions.
"The health infrastructure is very different in Nigeria," she says. "There is no NHS (National Health Service) and the GP structure doesn't really exist. The health system doesn't seem uppermost in priorities for the government."
Dr Ilegbune has also worked with Lakeshore staff to compensate for the lack of preventive care, connecting with churches, employers and other networks to encourage people to seek screening for the detection of cancer.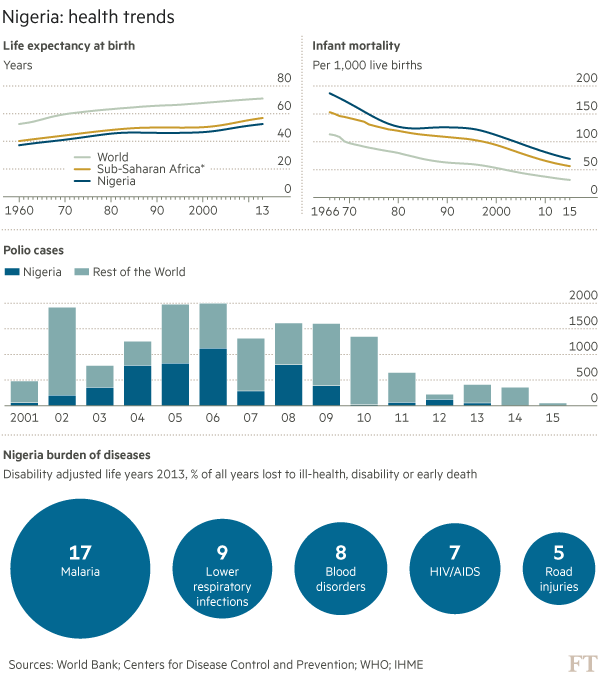 As Nigeria has begun to improve the treatment of infectious diseases, longer life expectancy and changing lifestyles are driving a growth in non-communicable diseases — from diabetes and heart conditions to cancer. Yet the health system remains inadequate to cope with the new demands. One issue is the lack of public sector funding. Prof Nwogu says that many patients are not part of the country's fledgling national health insurance system. They may have private insurance, receive help from employers or families, but they often face very high costs that they struggle to pay out of their own pockets.
A second frustration for many returning medical professionals is the attitude of their local counterparts, including doctors who keep patients waiting for hours. Strikes in the public sector and poor maintenance mean essential care and equipment are often unavailable.
Austin Obichere, who travels between the UK and Nigeria, where he has established the Dandtec endoscopy centre, says: "What is heartbreaking is that Nigeria has phenomenal potential, but there is bad leadership." He has helped boost training and practical experience for doctors, some of whom had "never even seen an endoscope".
Ogo Egbuna, who trained as a nephrologist in the US but consults with Kidney Solutions in Lagos to offer dialysis and kidney care, says local recruitment is not easy. "We prefer hiring junior nurses we can teach to impart our own expectations on how patients should be treated — with respect."
He says technology — including the use of electronic payments, cloud storage and teleconferencing — allow him to spend time between the two countries. But he highlights other "pain points" in Nigeria, from the need to provide electricity and purified water for dialysis given local interruptions, to high customs duties, prohibitive interest rates and regulations that impede operations.
Despite the frustrations, many of the Nigerian specialists who have returned or established strong links with medical services in their home country are positive about their experience. "I found it very challenging coming back, but it's more rewarding," says Dr Ilegbune.